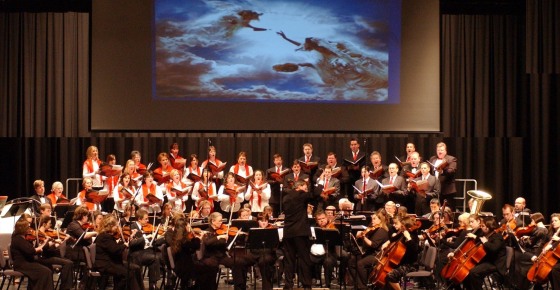 About Peter Covino, Jr. – Composer, Conductor, Arranger, and Music Editor
Peter Covino, Jr., composer, arranger, conductor, music editor 
Peter Covino, Jr., composer, arranger, conductor for orchestra, band, chorus, piano, TV, video, and movies, and music editing.
About Peter Covino, Jr.

Peter Covino, Jr. was the music director of the Boise area choir, the Alleluia Chorus and Idaho Choral Symphony (retired).  Originally from New Jersey, he has performed in and or directed many operas, orchestras, and musicals both on the stage and in the orchestra, singing, playing, or as music director.  He played (retired) 1st trombone in the Treasure Valley Concert Band in Boise.  He has played other instruments in various concerts and performances, from the timpani and trumpet to utilization of a synthesizer for multiple instrumentations in concerts, to the accordion in Broadway Musicals and Band and has sung with the Boise Idaho Opera, the Mormon Tabernacle Choir,  and played in and directed the Meridian Symphony.  He currently sings with the Salt Lake Choral Artists (audition choir), and the Sterling singers. peter covino orchestra composer conductor arranger music editor
Peter triple majored in composition, theory, and conducting at the Peabody Conservatory of Music, part of Johns Hopkins University. He received his Masters at Brigham Young University in composition and conducting and completed his Doctoral work on scholarship at the University of North Texas in composition and conducting.
Peter is a contest winner, and a published composer and arranger with over 800 published works.  His first conducting mentor was Leonard Bernstein while his brass instrument teacher was Al Weisman, first trumpeter of the New York Philharmonic.  He also studied conducting under Norman Johnson of the New York Metropolitan Opera, and Anshel Brusilow of the Philadelphia Orchestra and the Dallas Symphony.
Peter composes music from his head directly into his music-publishing program on his computer.  His compositions range from solo instruments to Broadway musicals (he has produced 1 of his 5 musicals on Broadway, 2 produced off Broadway).  He has worked on movie scores.  He has also written and produced for many other musical events, concerts, and programs including choral and symphonic idioms including band and orchestra.  His arrangements are in all areas and he has done studio recordings. He has hundreds more arrangements and original compositions not yet published and is an active freelance composer, conductor, arranger, and music editor.
An LDS Christian church goer with 29 grandchildren and great grandchildren.
Peter was the founder and director of the, Alleluia Chorus, and the Idaho Choral Symphony Orchestra of which there are links at the contact area of this web site.